Samantha Pleeth opted to run the Virtual Valentines 10k Challenge, following the cancellation of her planned marathon, in aid of Bowel Research UK and to date has raised an incredible £2,500! 
I met Rich on tinder back in
February 2018 l
uckily we both
swiped right and started dating. Life was pretty amazing over the first couple of months and we went on many trips to the Amalfi coast, Cornwall to meet his family and weekends at Soho Farmhouse. Life was bliss until August 2018, Rich was having some samples tested because he noticed symptoms similar to food poisoning but it was continuous. I had travelled to Barbados (where I am from) for vacation and Rich called me to let me know he got a call from the lab and his sample had tested positive for cancer. Rich was 33 years old so the idea of cancer at such a young age was never even a thought.
My world was shook, I couldn't believe what I was hearing and I knew that I needed to get back to London to be with him and prepare for what was to come …surgery and possibly chemotherapy.
I cut my trip short and flew back to the UK and within two weeks Rich was in surgery, my 33 year old otherwise healthy, awesome, outgoing partner was getting a tumour removed from his bowel the size of an American football. It was
stage 3 bowel cancer
and my only relief was that it hadn't spread to the rest of his body. I sat in
UCLH
for 14 hours on the day of his surgery. In classic Rich Pleeth style, he was the first patient in at 7am and the last one out at 8pm. I joke that I aged 5 years that day but truth be told I was never the same again, cancer took my naivety away and reminded me how fragile and temporary life truly is.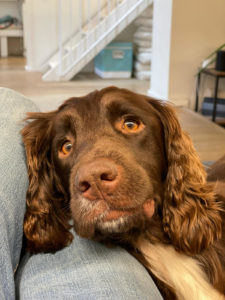 The consultant successfully removed the tumour and Rich did not have to get a stoma, something that he made incredibly clear before hewent into surgery!
Post surgery we were hoping he would not have to go through chemotherapy but unfortunately based on the biopsy he had to complete 9 months of gruelling chemotherapy. So, we decided to get a chemo pup, a spaniel named Winston who saved me from myself on days when Rich could not get out of bed. Life moves fast when cancer is involved, we had only been dating for months but as he was going to go through chemo we decided to get a place together, we moved into our new beautiful flat with our new puppy and faced the mountain of a climb which is chemo.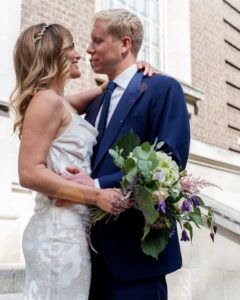 Rich handled chemo like a boss, he never complained even when he should have and always kept positive in moments that would break my spirit. We grew closer month on month and often joke that Winston is the age of Rich's remission. We got married in
September 2020
and even though our original wedding and celebration was cancelled due to Covid-19, getting married at Islington town hall and having a small gathering was equally beautiful.
I am so grateful for the amazing
NHS
who saved Rich's life,
Bowel Research UK
for working tirelessly to find a cure and I am so happy I was able to fundraise for such an amazing cause, may we always talk about poop and end this awful disease.